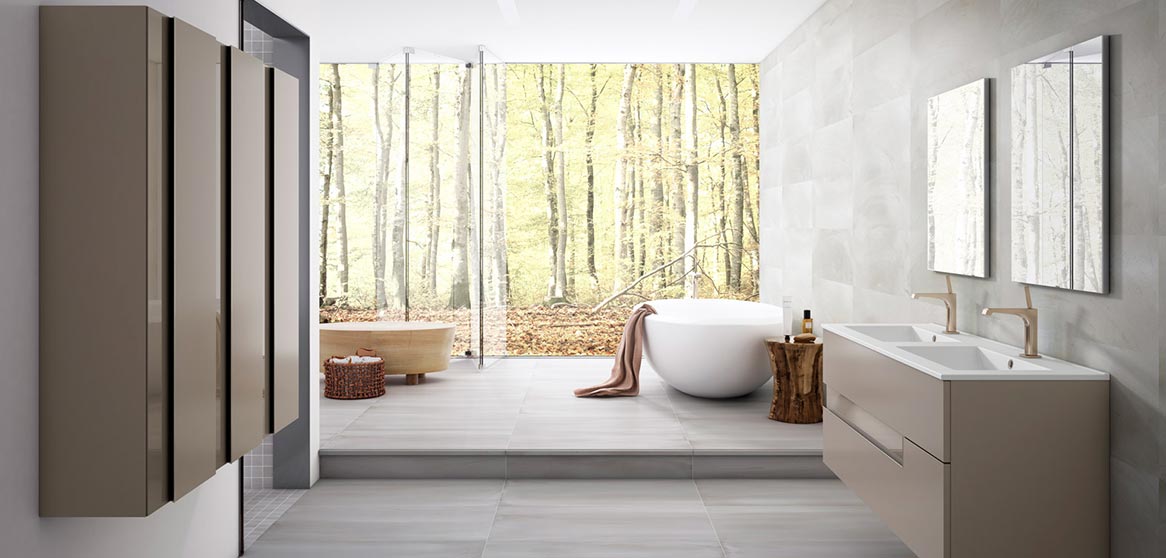 25 Nov

Design and storage with Bathroom Furniture

There's no better way to put your own personal style into your bathroom than with beautiful bathroom furniture and just the right amount of bathroom storage. At INDAREX we realize just how important the furniture is in the goal of making the most of your bathroom.

Bathroom furniture can make a bathroom design unique. Space and storage are often the most wanted value in a bathroom, but by using cleverly designed pieces such as bathroom cabinets, cupboards and drawers, you can easily create more space at the same time that you provide a design touch to that area.

With a wide range of colors, sizes and shapes offered, we guarantee that every bathroom will find its best combination. We have every need covered even if you are looking for furniture for a small space or a spacious and glamorous bathroom, in our catalog you will find a solution that will fit perfectly in your design.

Let our bathroom furniture collection amaze you with how every piece can be adapted to its surroundings. Choose from small or tall bathroom cupboards that are freestanding or wall hung, which you can mix and match alongside with the rest of component of the bathroom like the sink or the toilet. Play with the disposal of each unit creating a whole new design.

In addition to design, bathroom furniture must have certain characteristics that make them resist the conditions that occur in a space like a bathroom. Moisture and temperature changes resistance are key to ensure your furniture will last. The durability and finishes of the materials featured in INDAREX bathroom furniture have been designed exclusively for these environments at the same time that they give more sophistication to residential or contract type projects.

In conclusion, the wide range of possibilities that the bathroom furniture of INDAREX offers will provide a practical solution to every bathroom configuration without neglecting a high level of design.
Shower Trays: functionality with elegance
Formerly shower trays were elements without a design relevance but now they are such an essential part of the bathroom. And that is because we can offer a wide variety of layouts and materials thanks to the latest technological advances.
Water efficiency and aesthetic consistency have been the two keys under which this pieces have been structured. A specific shower trays that accords the rest of the design can make the bathroom a room for relaxation and peace.
Our modern pieces combine exclusive designs with maximum functionality, from the paneling to the outlet fitting. You can choose from a wide range of shower trays: rectangular, quadrant shower trays and other designs can be combined with various on-trend colors. While rectangular shower trays are the perfect choice in both large and narrow bathrooms. On the other hand, a square one can be installed in a corner or along the bathroom wall, making them suitable for many bathrooms and shower designs.
A quadrant-shaped shower is the best option in small bathrooms saving a lot of space and giving showers a modern look.
And if what you are looking for is a more bold design, walk-in shower trays give the illusion of more space in the bathroom while providing safe, accessible shower entry and exit.
Turn your shower into a vibrant focal point in the bathroom while having the best material with showers that are sturdy, durable and easy to clean. Shower trays are available in different sizes in order to fit in every bathroom but all of them guarantee safety with the best anti-slip surface allowing water to simply drain away.
Complete the design of your bathroom with the perfect choice of shower trays and turn it to a space full of sophistication and elegance.
The real potential of the Shower Closures

Shower closures are an important feature in any home; it is normally used every day and choosing the right cubicle for your room will make a stunning impact. Such a big piece of a bathroom should have the importance that it deserved.
Choose from frosted glass shower screens and even black framed shower screens to achieve a modern style. For a more classic look and feel, opt for simple frameless shower closures. We've got lots of great options to achieve your ideal shower experience.
In INDAREX catalog you will find a wide range of closures from the most classic designs to more avant-garde forms with any shapes required, straight or oval. Hinges, magnetic closures, and safety tempered glass are a few of the options available for the different models. The clean and minimalist designs of the shower closures are focused on making it easier to use and enjoy the shower area.
But not only it's a decorative item but it is a really functional element on daily basis. Shower closures that doesn't allow water come out of the tray being at the same time practical and elegant makes the difference. This materials have lots of benefits like the little maintenance they require. They are durable and very easy to clean. If you have a small bathroom, a glass closure is just what you need to make the space look bigger and more spacious.
Such a changes you can do with a simple element, mostly undervalued but with a lot of potential.
They will help to add a touch of luxury to any bathroom, combine it with the bathroom furniture and other accessories and create a unique space of calm and elegance.
Bathtubs as focal point in a bathroom
Nothing represents relax and elegance better than bathtubs. A new bathtub can offer a fresh new look or completely transform your bathroom if chosen carefully. Baths are brilliant for setting the design scheme of your bathroom and never fail to bring a touch of elegance to any décor.
Rectangular, oval, square, circular or insert, all bathtubs offered by INDAREX are adapted to the needs of the user and the use they want to make of it. Both insert bathtubs and free installation bathtubs represent functionality and design allowing the user to tone and relax the body of those tensions that accumulate by daily activity.
It is said that a good bath can elevate your mood, help you sleep better and relieve muscle pain. Lots of benefits that can make your day. A wide range of bathtubs to choose from. Infinite ergonomic, creative, and functional solutions, plenty of variants. Because everyone's space and needs are unique, you will find in INDAREX bathtubs that perfect match with your design.
Free standing bathtubs allows space to flow around them for a visually lighter feel and claw foot bathtubs are ideal for bathrooms with a contemporary or traditional theme. They usually feature a traditional style and ooze elegance in any surrounding.
On the other hand, insert bathtubs stand out for their practicality and versatility taking advantage of any corner of the room due to the large range of dimensions we offer.
Different shapes, functions, and dimensions, choose the piece that best fits in your dreamed bathroom. With the best raw materials, finishes studied thoroughly and always guaranteeing security, we can offer a quality product that will last.