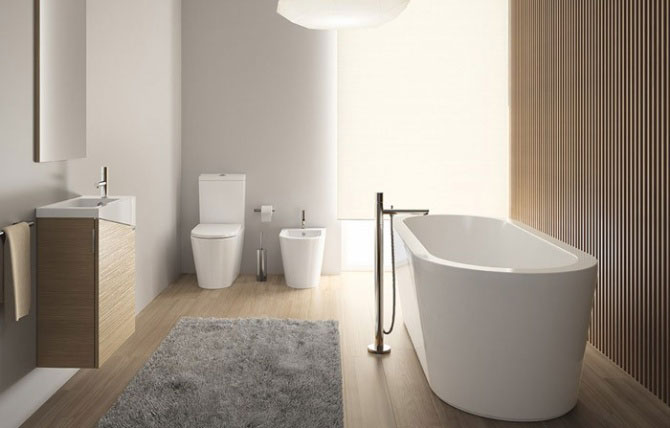 30 Mar

Luxury toilets for your bathroom

When we think of a room full of luxury and elegance, what immediately comes to mind are marble pieces, ceramic with unique designs, intrinsic details and such.

The room that best picks up those elements is the bathroom.

Walls with unique ceramic pieces, elaborate taps, sanitary units with exclusive designs, large shower trays with practically invisible screens or stately bathtubs. Countless elements can make your bathroom a luxury space.

When talking about elegance, the perfect image of it is a timeless bathtub, with a Victorian style that combines an eternal design with unbeatable comfort. With its characteristic legs this piece will be the focal point in your bathroom.

But not only bathtubs can create a sense of luxury in a bathroom, the shower is a perfect component of the room that can create a stylish environment. In addition to its practical use, if we choose the right components, we will have a master piece in the room. In order to have more possibilities, a luxury shower should have an overhead shower head and one hand-held shower head, this will allow choice for the enduser. In choosing an original cladding for the walls and a unique shower plate, the sense of luxury is guaranteed.

Another element that can bring distinction to the bathroom is the washbasin. Such a simple component can make the difference if only we choose a risky color for it or an original shape that will make our bathroom exclusive. It is also important to care of the small details like an elegant tap that matches the shower faucet or the rest of the bathroom sconces.

Along with the washbasin, the WC has an important relevance since it is a key element in the decoration of a bathroom. The functionality and aesthetics must unite in order to be part of a luxury bathroom. There are plenty of options for elegant WC from suspended WC or concealed toilet cisterns to classic ones were the curves and shapes have all the prominence.

In conclusion, all elements of a bathroom have importance in the design if we are looking for a luxury environment. Even the smallest detail can make the difference so go ahead and transform your bathroom into a room full of glamour and quality.